and while I am not a comic expert by any means, I couldn't think of a single red-headed female superhero.
Don't worry, an extensive google search alleviated my concern for the lack of flaming-haired superpowered vixens.
Here they are, in no particular order:
1. Firestar. This one Nathan knew right off the top of his head! Formerly Angelica Jones, she is a mutant superhero originally created for the animated series Spiderman and his Amazing Friends.
2. Ginger Powerpuff. No, not a superhero per se, but a redhead who fights evil nonetheless.
3. Goblin Queen. A.K.A. Madelyne Pryor-Summers, an evil clone of Jean Grey.
4. Vindicator. A.K.A. Heather Hudson, the leader of the Canadian team Alpha Flight.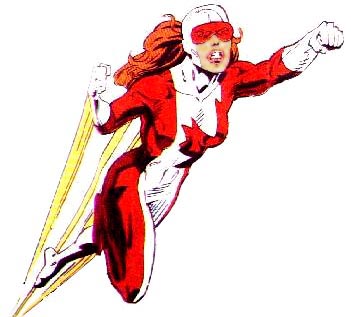 5. Nathan says Rogue has reddish-colored hair in certain lights.
6. Josie, of Josie and the Pussycats.
7. Barbara "Babs" Gordon. Oracle, formerly Batgirl.
8. Princess Python. A.K.A. Zelda DuBois.
9. Phoenix, formerly Jean Grey.
10. Hellcat. I can't tell if she's good or bad, sounds bad, right?
Interestingly enough, Hellcat was formerly Patsy Walker, of the teen romantic-comedy comics "Patsy and her Pals."